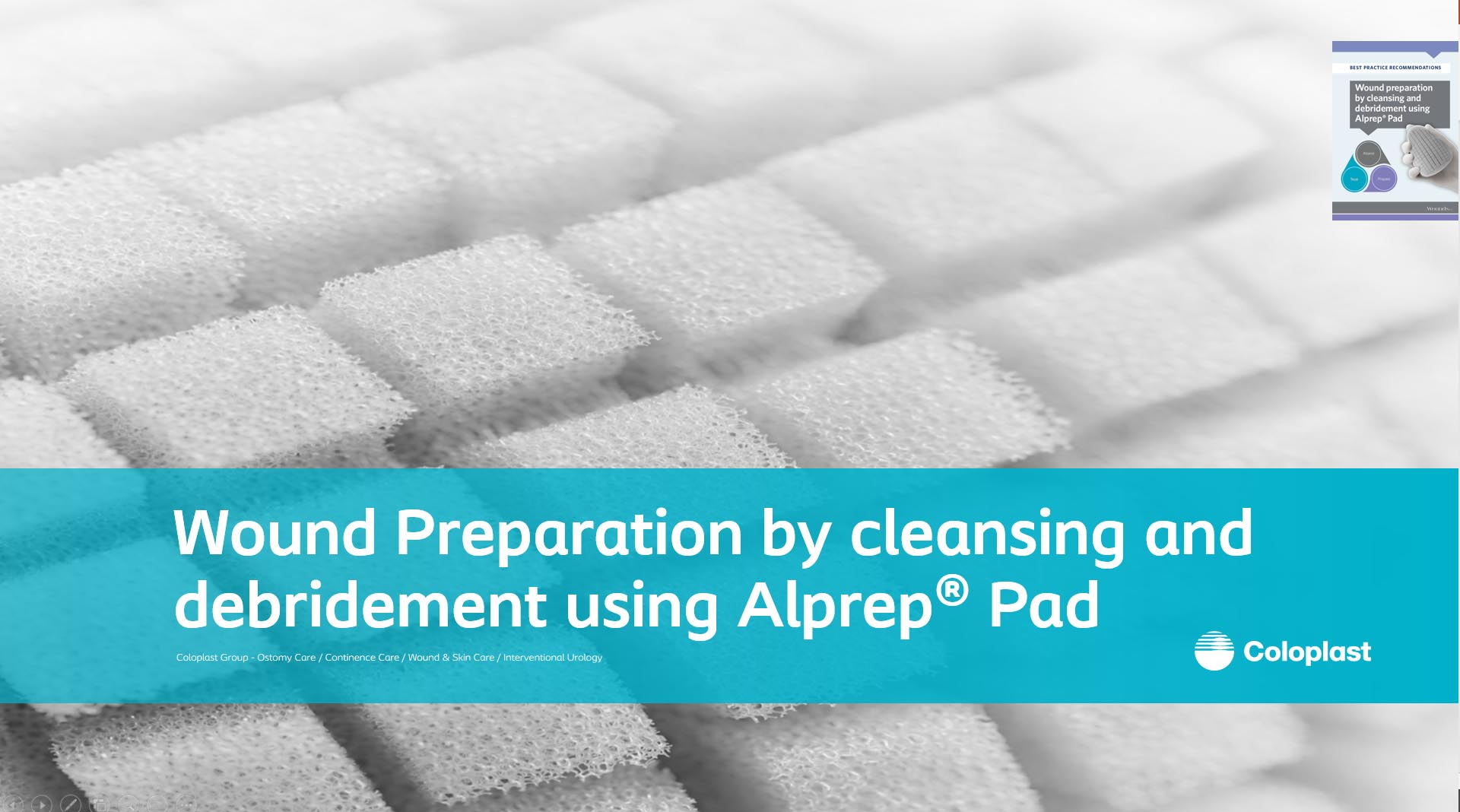 Watch the Best Practice Recommendations webinar
Wound Preparation by cleansing and debridement using Alprep Pad
The new Wounds UK Best Practice Recommendations aim to support all who are involved in wound care to be confident and capable to know how, when and why to perform wound preparation.
Listen to our expert speakers, Caroline Dowsett, Donna Welch & Simon Barrett and their experience using Alprep Pad for the preparation of wounds.
Download the best practice recommendation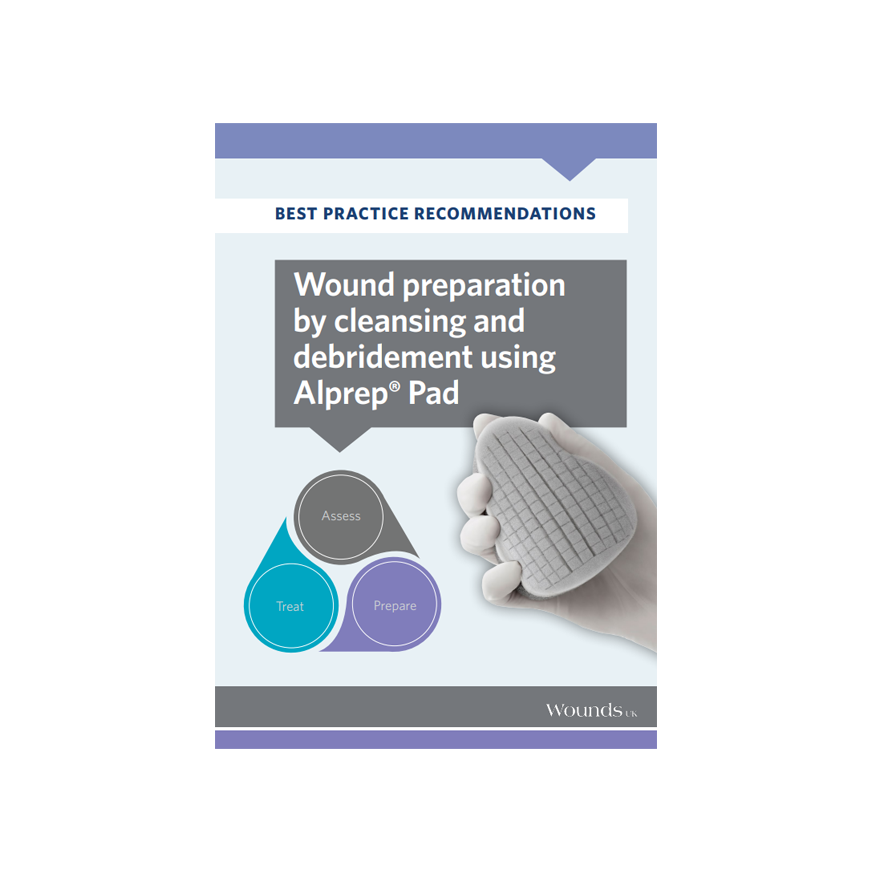 Best practice recommendations
Wound preparation by cleansing and debridement using Alprep® Pad.
Wound preparation, which encompasses cleansing and debridement, involves preparing the skin and all areas of the wound for healing. Cleansing and debridement are clinically proven to speed up wound healing by removing slough, devitalised tissue and biofilm (Wilcox et al, 2013). Removing the barriers that may delay wound healing is a crucial step in wound care, allowing wound assessment, reducing risk of infection and promoting development of healthy tissue.
Challenges to current cleansing & debridement tools
Limited functionality
Poor absorption
Lack of usage control
Alprep Pad has been designed for improved absorption and ease of use, giving you the flexibility to reach areas in the wound where debridement is needed.
Alprep Pad can be used by all clinicians treating wounds.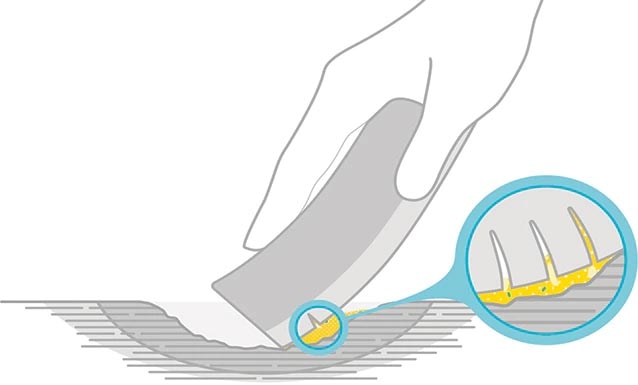 Learn how to use Alprep Pad
Request a sample of Alprep Pad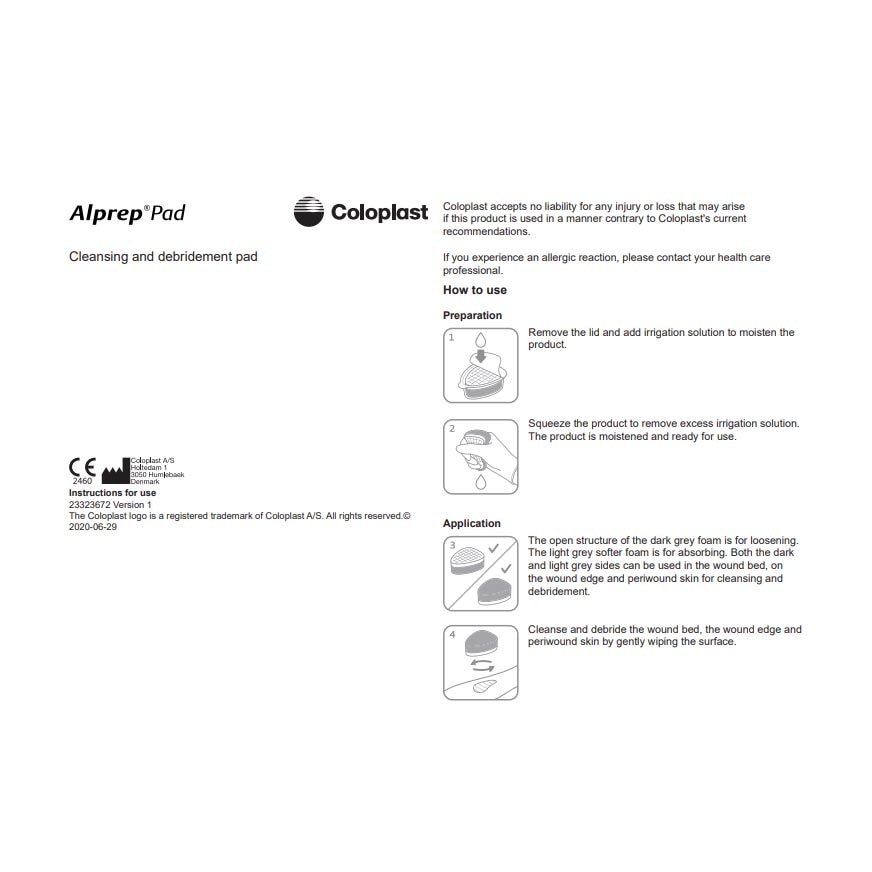 Support optimal wound preparation by cleansing and debriding with Alprep® Pad
Alprep® Pad is a two-in-one cleansing and debridement tool, rated by clinicians as effective and convenient to use.
It is suitable for a wide variety of wounds including non-infected wounds, infected wounds or wounds with suspected biofilm. Use Alprep Pad to cleanse and debride the wound, wound edge and periwound skin by gently wiping the surface of the wound.
Alprep Pad - Simplifying cleansing and debridement to support optimal wound preparation
Two tools in one
The open structure of the dark grey foam is for loosening. The light grey softer foam is for absorbing and capturing.
Designed for improved absorption
Unique slits design increases the absorption and captures loosened slough, non-viable tissue and biofilms.
Easy and convenient to use
The special triangular shape makes for comfortable handling. The packaging can also be used to wet and hold the pad.
What it does and how to use it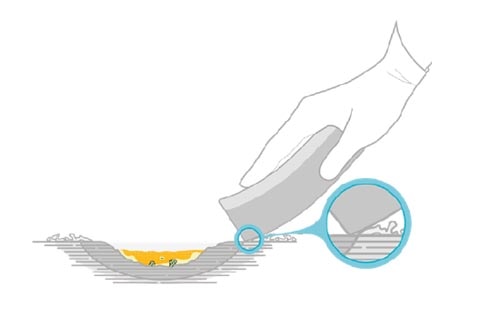 Loosen and remove non-viable tissue, slough and skin scales – including hyperkeratotic scales from the wound bed, wound edge and periwound skin – with the dark grey foam.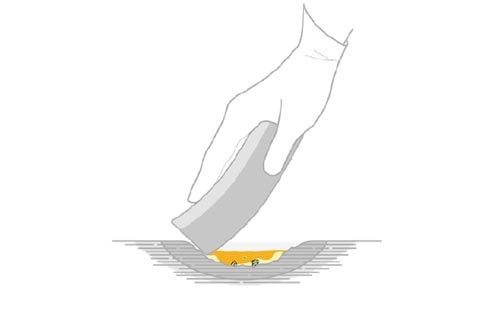 The dark grey foam also removes biofilms and microorganisms from the wound surface.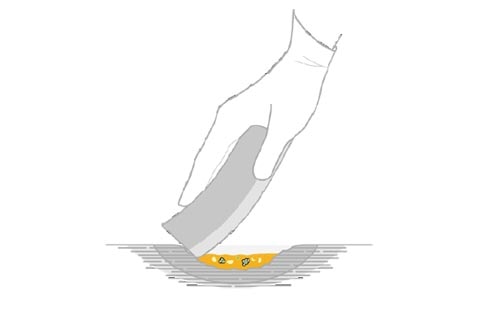 The slits in the light foam are set in motion when used, transporting wound exudate, non-viable tissue and bacteria into the structure of the foam.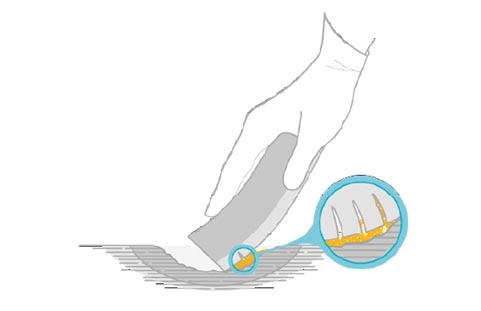 The unique, patented slits in the light grey foam capture, absorb and integrate exudate, non-
viable tissue and biofilms into the product for efficient removal from the wound.
Hard-to-heal pressure ulcers showed marked improvement over just a couple of weeks
Jamie's story
Jamie has suffered with two sacral pressure ulcers for a long time. One for 15 years and one for 5-6 years. Alprep Pad has been introduced as part of a new treatment protocol to cleanse and debride his wounds. Over just 16 days, the wounds have already showed a marked improvement.
Day 1 to Day 16 healing following use of Alprep Pad.