Request a sample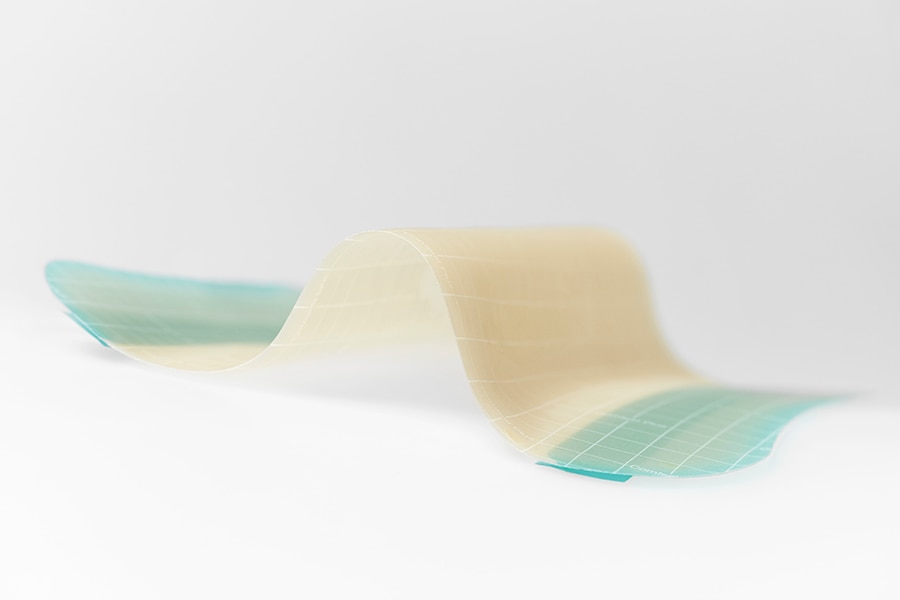 Hydrocolloid dressings for moist wound healing
We have updated Comfeel® Plus with a new 3-piece non-touch system for easy and aseptic application.
We have redesigned the retail box with turqoise touch points, large font size and a life-size picture of the product on the front to make it easy to find the dressing you need.
We have also included "how to use" instructions on the pouch to guide you all the way through.
Comfeel Plus provides the benefits of moist wound healing and protection for wounds and skin at risk.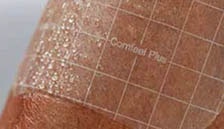 Ensured protection
Hydrocolloid dressing for moist wound healing and protection of skin at risk
Water- and bacteria proof to protect the wound
Semi-permeable top film – to allow moisture to evaporate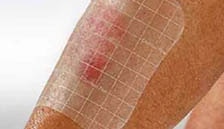 Wound monitoring
Mapping grid for wound monitoring and dressing change indication
Fewer dressing changes and less wound disturbance support faster healing
Transparent* dressing allows you to inspect the wound without removing the dressing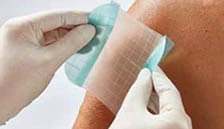 User-friendly design
Aseptic application with 3-piece protective films
Easily identifiable turquoise touch points
New packaging design and pouch for easy product selection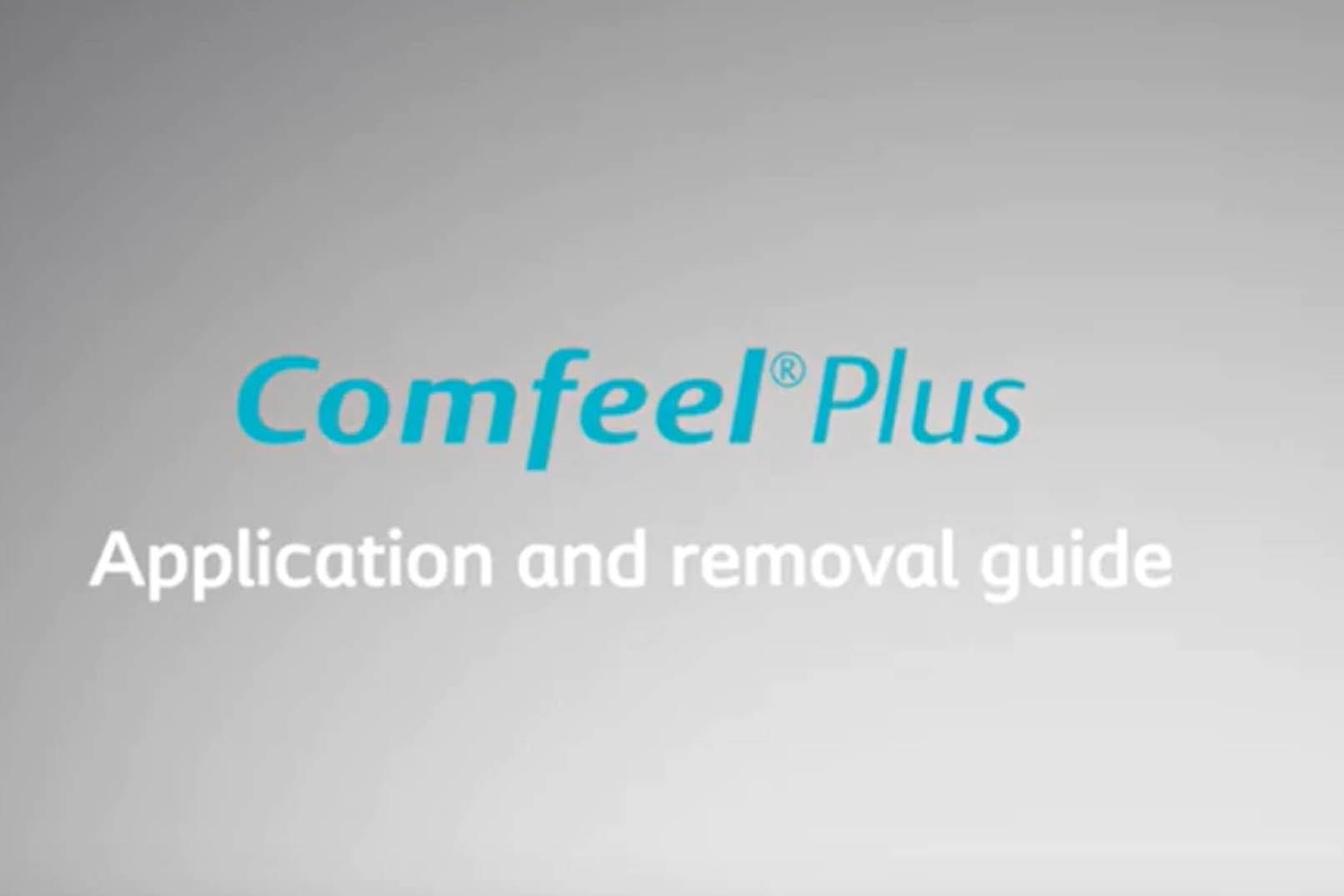 How to apply and remove Comfeel
Comfeel Plus Transparent can be used for protection of skin at risk of injury, or in the early stages of wound development.
Comfeel Plus is a soft, comfortable and discrete hydrocolloid dressing that is easy to apply and remove.
The user-friendly design allows for intuitive handling and easy aseptic application – even when wearing gloves.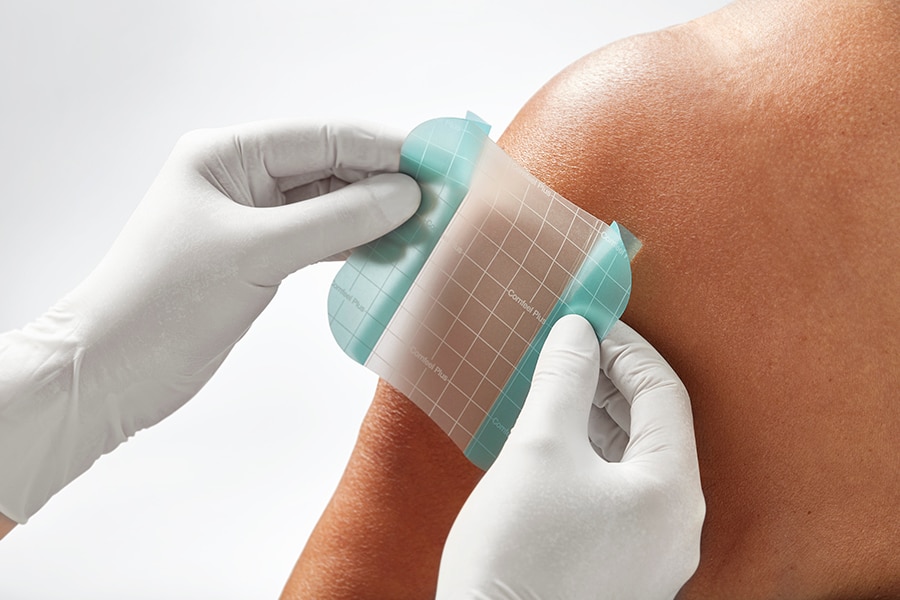 Comfeel® Plus Transparent
In the recent publication6 from the 28th March 2020 NHS England and NHS Improvement, Public Health England and the Academy of Medical Royal College recommend that FFP3 respirators are used when caring for patients in areas where high risk aerosol generating procedures (AGPs) are being performed. If your organisation is unable to provide FFP3 masks, then the official bodies recommend that FFP2 masks are used as an alternative. Both of these mask types should be fit tested, and not just fit checked.
If you require skin protection and choose to use Comfeel Plus Transparent under your mask, Coloplast recommend fit testing to take place with Comfeel Plus Transparent in situ.1,2
Pioneers in moist wound healing. Partners in the future of health care.
As a health care provider, you know that protecting the wound while it heals can make all the difference. And we know that wound care is no easy job.
That's why we have used the experience gained from three decades of working with wound care to update Comfeel Plus with user-friendly features.
The result is a series of dressings that are intuitive to work with while still delivering the protection you know.
References
View references

Otero et al., 2017. Preventing facial pressure ulcers in patients under non-invasive mechanical ventilation: a randomised control trial. Journal of Wound Care, vol 26, no. 3
Black et al., 2010. Medicaldevice related pressure ulcers in hospitalized patients. International Wound Journal, vol.7, no. 5.
Weng, 2008. The effect of protective treatment in reducing pressure ulcers for non-invasive ventilation patients.Intensive and Critical Care Nursing, vol. 24.
Bishopp et al., 2019. The preventive effect of hydrocolloid dressings on Nasal Bridge Pressure Ulceration in Acute Non-Invasive ventilation. The Ulster Medical Journal.Vol. 88, no. 1.
European Pressure Ulcer Advisory Panel, National Pressure Injury Advisory Panel and Pan Pacific Pressure Injury Alliance. Prevention and Treatment of Pressure Ulcers/Injuries: Quick ReferenceGuide. Emily Haesler (Ed.). EPUAP/NPIAP/PPPIA: 2019.
https://www.england.nhs.uk/coronavirus/ [Date accessed02/04/2020
Other recommended products