Log in to ONPOS
Online Non Prescription Ordering Service
Simplifying Wound Management
Health Care Professionals and NHS organisations face the challenge of balancing the increasingly complex wound treatment and management needs of their patients with ever decreasing resources.
We believe that transformation of wound care supply and distribution is possible through ONPOS, our Online Non-Prescription Ordering Service.
Launched in 2004, ONPOS continues to be a market leading non-prescription service provider and today 80 organisations use ONPOS in more than 2,800 locations across the UK.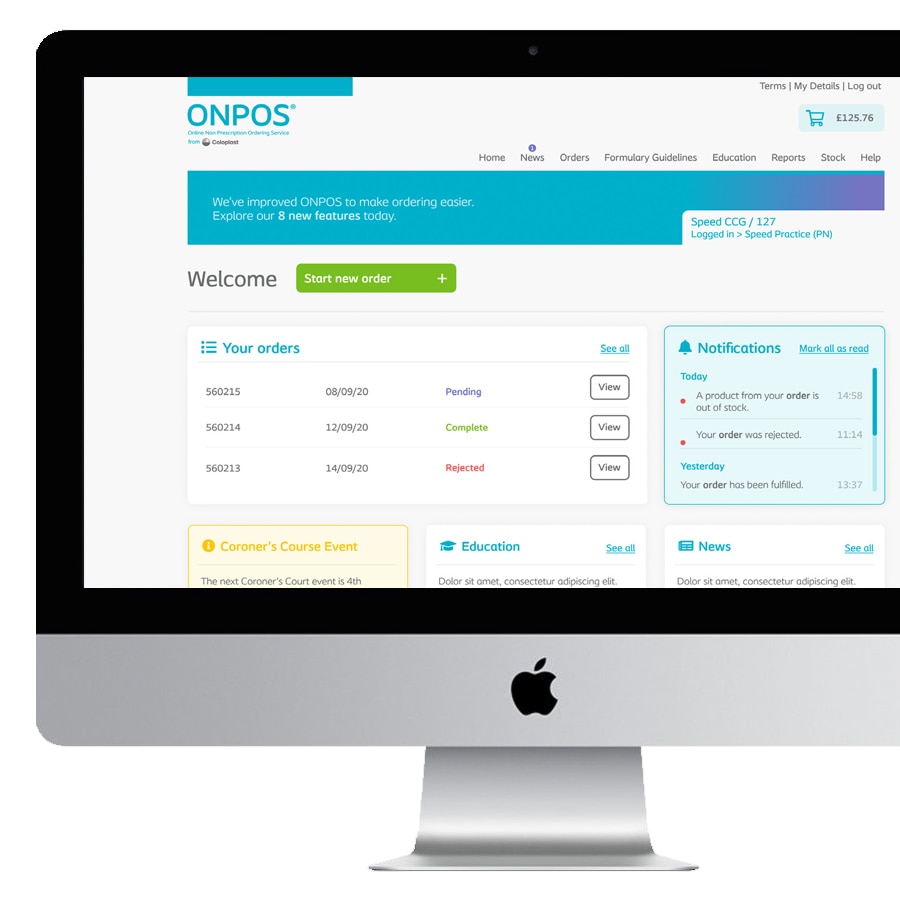 ONPOS is proven to deliver the right dressing at the right time and simplifies the delivery of wound care in managing and improving compliance, reducing wastage as well as reducing total wound management spend.
Benefits include:
Improved Formulary compliance of 85-99%1,2,3
Reduction in product wastage1,2,3
Simplified process to acquire dressings and save time1,2,3
Improved patient care and experience5
20% reduction in wound care community spend3
Service & spend monitoring via real-time data to identify savings1,2,5
For more information or to arrange a call with our Healthcare Partnership Managers, email woundcareuk@coloplast.com or freephone on 0330 175 5836
References
View references

Grothier, L., (2013). Reflections on the implementation of a Web based non-prescription ordering system. Wounds UK 9(2):51-5
Griffin, J., (2015) Driving efficiencies in the wound care expenditure through service redesign utilising an online non –prescription ordering service. Wounds UK 11(3):1-6
Jones. L., Using an online non-prescription ordering service to drive efficiency and reduce unwarranted variation in wound care product use and spend. JCN 2020, Vol 34, N0.1
Young, J., McGrath, AA., Milne, J.(2018). Case study report of the effective use of a conforming foam dressing with 3DFit Technology on wounds up to 2cms in depth without the need for a filler dressing. Wounds UK Harrogate
Markey, P., Barrett, S., (2017) The benefits of using an online ordering service to improve efficiency in wound care services. Br J Healthcare Manage 23(11): 1-7