What is a hydrocolloid dressing – and how does it work?
A hydrocolloid dressing typically contains a gel-forming agent, such as sodium carboxymethylcellulose, on a semi-permeable film or foam.1
When a hydrocolloid dressing comes in contact with wound fluid or exudate, it forms a hydrophilic gel. The gel's primary function is to rehydrate the wound to promote the healing process.2 It absorbs the exudate and promotes the autolytic debridement of the wound.1
As the gelling process takes place, the dressing becomes more permeable. This allows water to evaporate through the dressing and increases its ability to absorb exudate.3
From stoma care to wound care
Hydrocolloid technology was originally developed for stoma care. However, a clinician noticed that the edges of the stoma looked healthier and started to heal after being placed under hydrocolloid wafers. This discovery marked hydrocolloid's transition from stoma to wound care. The hydrocolloid wafers were placed on polyurethane films to make the dressings easier to handle and provide the moisture retentive properties that are so important to creating a moist wound healing environment.1
When should I use a hydrocolloid dressing?
Hydrocolloid dressings are intended for low to moderately exuding wounds. The thin versions of hydrocolloid dressings are used on dry wounds or wounds with very low exudate levels.1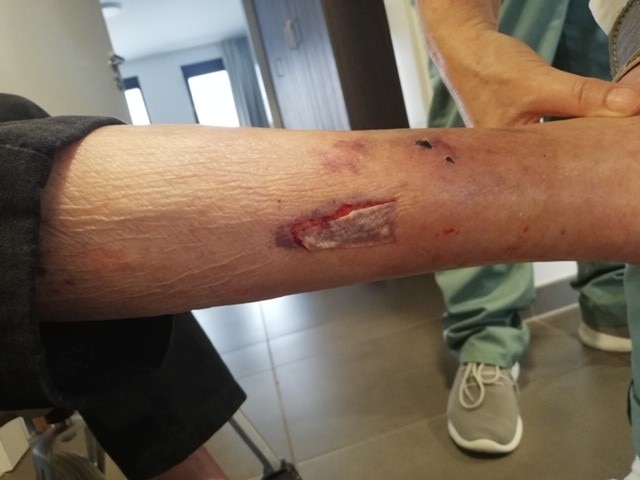 You can use hydrocolloids:
to promote autolytic debridement in dry, sloughy or necrotic wounds.3
to protect fragile skin from friction and shear. Some hydrocolloids have a smooth outer surface that can help reduce friction between the patient's body and the support surface. This decreases the amount of friction and shear on the underlying skin, which reduces the risk of a pressure injury forming.3
to protect newly formed skin.3
on venous leg ulcers. Because of their longer wear time, hydrocolloid dressings also work well under compression systems.3
on skin tears. You can use hydrocolloid dressings on this wound type to keep the realigned lacerated skin edges in position.3
on Stage 1 and 2 pressure injures.3 To find out more, see our section on 'Using wound dressings to treat pressure injuries'.
View other dressing types